StuMin 90s Fall Weekend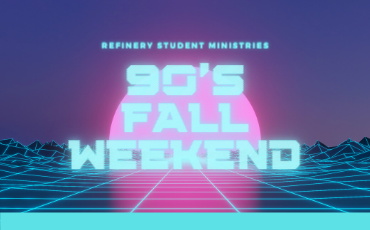 REGISTRATION CLOSED ON OCTOBER 18.
In classic 90s style we'll roll into Deer Creek State Park for a weekend full of retro gear, roller skating and connection. Taking a trip like this as a group allows extended time to get to know each other better and dive deeper into our faith.We'll stay at Deer Creek State Park cabins and head out for a service project, hiking, roller skating (skates included) and laser tag. We'll have group conversations and devotions using a conference room at Deer Creek State Park Lodge.
Arrive at Refinery at 6:00pm on Friday, November 5. We will stop for fast food dinner on our way to Deer Creek State Park, where we will stay in cabins.
Return to Refinery at 10:30am on Sunday, November 7. (MS students are welcome to stay for 11am Refinery Middle School service. HS students can attend the 11am Sunday service at Refinery.)
WHAT TO PACK:
-one small bag with 2 or 3 changes of clothes, including some 90s-themed gear if you'd like! Neon colors, fanny packs, MC Hammer pants…you know, the good stuff! You'll also want to pack comfortable clothes so that, weather permitting, we can go hiking.
-Refillable water bottle.
-Bathroom supplies (deodorant, toothpaste, soap, etc.). Towels and bedsheets are provided.
-Bible & pen or pencil
-Cash or card for dinner on Friday and breakfast on Sunday ($20-$25 should be plenty).
-Any medications you will need with clear instructions on the containers. Students can manage their medications if parents confirm this at drop-off.
DON'T BRING:
-cell phones (we'll collect student phones as we start our trip and return them as we head back to Columbus on Sunday morning. We will send a few email updates to parents during the weekend.
-sleeping bags, air mattress, bath towels (bedding and towels are provided at the cabins)
-more than one small bag of clothes. (Each student needs to be able to carry and manage everything they are bringing.)
-anything else that would be a distraction for individuals or the group
Questions? Send Ben an email at ben@refineryohio.com